Use the Blockons Testimonials block to display your customer comments or 5-star ratings on your website!
This block offers a neat and easy way to display multiple ratings or comments in a carousel or slider block, animating between slides you can easily display lots more ratings.
Example:
Adding the Testimonials Slider Block
To add the Testimonials block to the page you can simply click to add a new block to the page and then search for "testimonials" and you should see it appear in the block.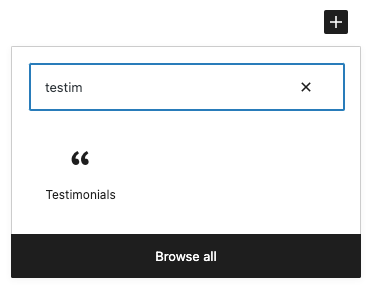 OR, open the left-hand sidebar and search there or scroll down to the "Blockons Blocks" category section and click the Testimonials block to add it to the page.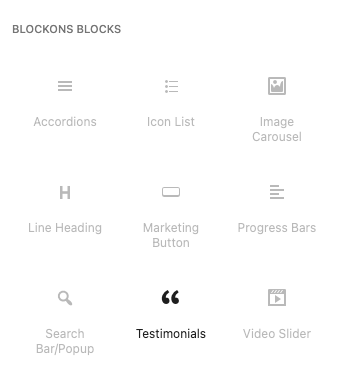 Editing the Testimonials block
Once you've added the block to the page, make sure you have the block selected by clicking on it. Then you'll be able to edit the settings within the block and the settings which are added to the right-hand sidebar panels.
Edit the testimonial text, author and author position by clicking within and editing the text as it is in the block, and to edit the star ratings for each slide, you can simply click the star that you want the rating to display:
To remove the ratings, there is a setting for that in the sidebar panel.
There are also options to duplicate or delete slides in the slider or carousel which you will see appear when you hover over the Testimonials block.

There are 3 sections of settings available in the different panels:
Testimonials Settings:
You can change the testimonial block from a single element slider to a multiple element carousel by changing the "Number of slides to show". Make sure you add enough slides to be able to display the testimonials as a carousel.
This panel also offers 3 different layouts, the default layout, a side layout and another layout with the author name displayed at the top… Select the one you prefer for your design.
Rewind Slider will make the slider or carousel rewind back to the start once the user reaches the end of the slides.
Testimonials Design:
Within the Testimonials block design settings you can turn on / off the different elements such as star ratings, author, author image or the quotes displayed on each side of the main text.
You can also adjust the colors for most elements to make the testimonials block suite the look and feel of your website design.
Testimonials Slider Controls:
You can also adjust the slider controls and how they display on the Testimonials block.
You can show or hide the controls… Change the icons and pagination to dots or numbers… And you can also select to only display the carousel / slider controls when a user hovers over the slider.
If you think of any new useful features or would like some help using this testimonials block then let us know and we'll assist as best as we can.