The WordPress editor gives you a normal heading block by default which you can use for titling your pages and different content sections, but it just doesn't offer the styling you're wanting, it just doesn't fit with your page design… So we've created a similar heading block, but it's a line heading block.
It's also a heading, but with lines on the right, the left, or on both sides of the heading, and you're able to further customize all elements of the heading block easily to make it suit your design.
Examples:
The Line heading block has settings for all colors, line styles, widths and more.
Adding the Line Heading block
To add the heading block to the page you can simply click to add a new block, then start searching for "line heading" in the search box and you should see it appear in the box.
Or you can click to open the left sidebar which displays all the blocks available to your website and either search for it there too, or scroll down to the "Blockons Blocks" section and click the line heading block to add it to the page.
Editing the Line Heading block
The Line Heading block offers a bunch of layout and design settings so you can customize the heading to look exactly as you want it to.
Some of the settings include:
Select the html element – Choose which element is used for the line heading so further improve your SEO on the page.
Set a heading width by percentage or pixels – Set any width to the heading and then align the heading to the left, center or right to make it sit exactly where you need it on the page.
Text and line alignment – You can set whether the line site centered, on the top or on the bottom of the text in the line heading.
Design Settings – You can change any colors, font or line sizes with the line heading block design settings.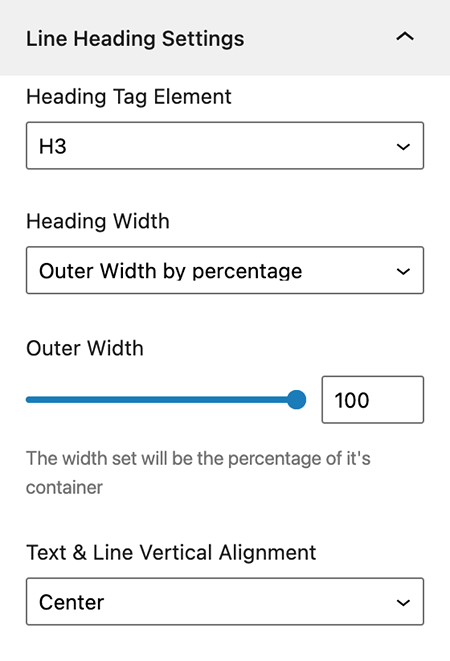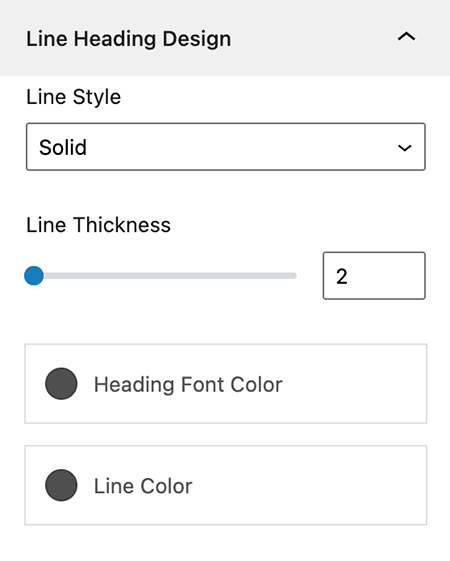 If you need any help with adding or editing this Blockons block, or you can think of more features that would be useful to the line heading block, then please contact us and let us know.