Are you wanting better looking, visually more attractive, customizable lists for your website pages… The Blockons Icon List block we've built for the WordPress block editor is exactly what you're looking for.
Example:
This example displays a list that can be fully customized to suit your needs… even per item!
Adding the Icon List
To add the List block to your page you can click the little plus sign to add a new block, and then do a search for "list", "icon" or "blockons" to find the icon list block.
Or, you can also click "Browse all" and scroll down to the "Blockons Blocks" section, and click the Icon List block to add it to the page.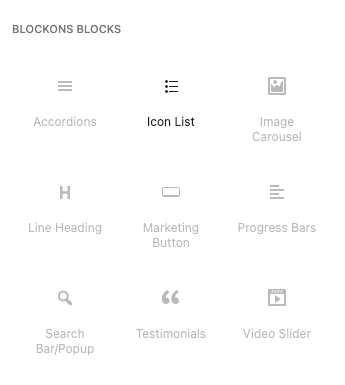 Editing the Icon List block settings
All the settings are pretty straight forward, by selecting the block you will see all the settings available in the right sidebar panels… These offer settings to edit the colors and sizing of the list item elements… You can adjust the spacing of the list items vertically and the horizontal spacing between the icon and text.
There is also the option to change the layout of the list items to display in the horizontal layout as shown here:

You can also edit the design on a per item level… We're pretty sure we're the only plugin that offers this. When you hover over each item, you will see 3 icons appear on the right-hand side of the item.

These three icons are extra settings to:
Edit the design of only this item – When you click the design icon, you will see a drop down which offers settings to override the sizing and colors of the items.
Duplicate the item – This will create a new item right below with all the adjusted design settings already applied.
Delete the item – Remove this item from the list.
Simple and straight forward beautiful lists… If you find anything that is not working, or you have an idea for a new setting for the Icon List then please contact us.